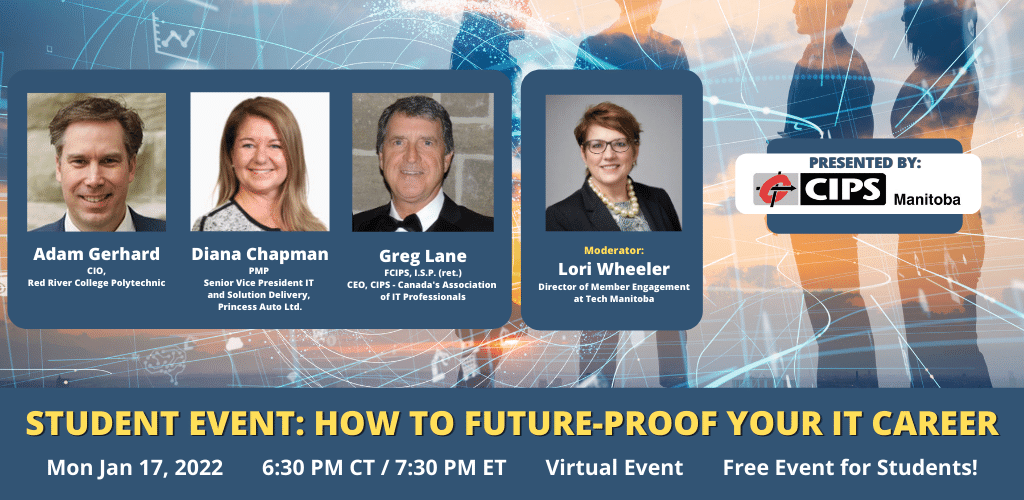 ---
CIPS Manitoba Presents:
Student Event: How to Future-Proof your IT Career
Monday January 17, 2022 at 6:30 PM CT / 7:30 PM ET
Virtual Event
Free Event for CIPS Manitoba Students!
---
This CIPS Manitoba event provides students with an opportunity to learn from a speakers panel that includes local IT Leaders in Manitoba who will talk about their career paths, their roles, and advice and tips they have for students entering their IT career.
The speakers panel includes Adam Gerhard, CIO at Red River College Polytechnic, Diana Chapman PMP, Senior Vice President IT and Solution Delivery at Princess Auto Ltd., Greg Lane, FCIPS, I.S.P. (ret.), CEO at CIPS – Canada's Association of IT Professionals, and is moderated by Lori Wheeler, Director of Member Engagement at Tech Manitoba.
The speakers panel will discuss what got them into IT, their career path journey, lessons learned, and tips for students entering their IT career. Students will also have the opportunity to ask the panel questions, such as where they see the industry going, what skills students will need to advance their careers, and what resources they'd recommend.
---
Speakers:
---
Adam Gerhard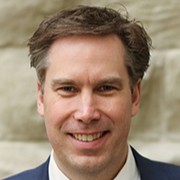 Chief Information Officer at Red River College Polytechnic
Adam Gerhard is a senior leader with an extensive background in strategy, governance, management, and information technology. Adam brings dedication and passion to his endeavours and is recognized for his calm, thoughtful leadership in his professional and volunteer work.
Prior to joining RRC Polytech as the College's first CIO, Adam worked at the University of Manitoba as Director of Planning and Governance, Careica Health as Vice President Corporate Services , and IBM, where he started his professional career on the IT Helpdesk and progressed into development and architecture. Adam has also served as a Regent and Chair of the Governance and Community Relations Committee of the University of Winnipeg Board of Regents. Adam holds a Bachelor of Computer Science and an MBA from the University of Manitoba, and is an alumnus of the Governor General's Canadian Leadership Conference.
---
Diana Chapman PMP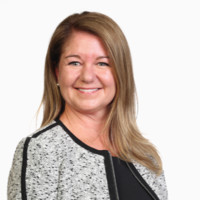 Senior Vice President IT and Solution Delivery at Princess Auto Ltd.
Diana is an executive leader with over 25 years of experience in IT as well as expertise in Project and Program Management, Business Transformation and Change Management. She has led teams in IT, Network, Project Management, Transformation and Field Operations in industries such as Telecommunications, Financial Services and Retail.
Diana has a collaborative approach with good interpersonal skills to engage, motivate and encourage others through change. She sets high personal and team expectations and motivates with a shared vision of the future, leading to high engagement and productivity.
Diana achieved her Computer Analyst Program certificate from Red River Community College, Masters Certificate in Project Management, Project Management Professional designation, Prosci Change Management certificate and she is an alumnus of The Protégé Program with Women in Communications and Technology.

---
Greg Lane, FCIPS, I.S.P. (ret.)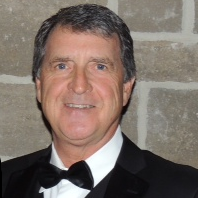 CEO at CIPS – Canada's Association of IT Professionals
Greg Lane MBA, I.S.P. (ret) has over 30 years of leadership experience in IT. He did his master research report on Customer Service and Outsourcing. He has worked on product sales with Microsoft and Cisco and in consulting with Deloitte and Accenture.
His leadership experience includes volunteer activity with CIPS, ICTC and ITAC (now Technation). He has published on the topic of building relationships in a digital world and portals. He has lectured at both Algonquin College and University of Ottawa on Relationship Building and IT Governance.
Greg is currently an Executive in Residence at the University of Ottawa's eHub program and the national CEO of CIPS.

---
 Moderator:
---
Lori Wheeler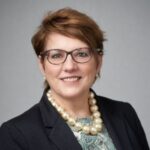 Director of Member Engagement at Tech Manitoba
Lori is a marketing and communications professional with extensive experience as a strategist on both the client and the consulting side. Her strength is in community relations.
Lori started her career in a boutique advertising agency, where she became co-owner and account manager for a wide range of clients. She later developed and launched a public relations division for an advertising agency in Victoria and assisted clients with strategic communications, event planning and integrated marketing campaigns.
She has both succeeded and failed in entrepreneurial endeavours and although failure certainly is the greatest teacher, succeeding is more fun.
---
Click Here to become a CIPS Manitoba Student Member – It's Free!
CIPS Manitoba Student Event: How to Future-Proof your IT Career