Date: Tue, 05/02/2017
Event Location: The Norwood Hotel,112 Marion Street, Winnipeg, MB.
Hyper-Cannibalism – Why Competition is for Losers (and Survivalists)

Disruption is the new norm. Technology is advancing at such a rapid pace that the cycles of disruption is frightening. To remain significant, companies will have to adopt this philosophy of "Hyper Cannibalism". Strategy is no longer played out the marketplace – market competition is for losers. Today, the game is played within your organization – organizational competition is for survivalists. Hyper cannibalism requires you to build competitive teams that will fail as quickly as possible to build products, services or experiences. Eventually, you will find a hit that will destroy what's working today in order to build a new, brighter future. Competition and chaos are encouraged within a safe environment, while failure is praised and incentivized. This is all predicated on the notion that running experiments have become cheaper and faster than ever before. The introduction of hyper-cannibalism will be the responsible for exponential progress and instability in ways that are unforeseeable.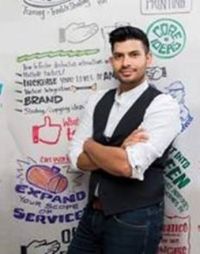 Speaker: Shawn Kanungo

Shawn Kanungo is a sought-after keynote speaker and strategist. Over the past decade with Deloitte, he has been recognized nationally and globally for his work in the innovation space. Shawn works with corporate executives to better understand and plan for the opportunities and threats associated with disruptive innovation. Shawn's focus is on understanding disruptive technologies, business models and broader disruptive trends on Deloitte's clients and on Deloitte core businesses. . He is on the ground floor helping private and public sector organizations adopt new technologies and business models for the digital age. In 2016, he was recognized as Avenue Magazine's Top 40 Under 40. He is currently co-host of The Dip, a podcast focused on strategy, marketing and innovation – available on iTunes and Google Play.
Registration: 11:30 A.M.
Dinner: 12:00 P.M.
Presentation: 12:15 P.M.RSVP by end of day Friday, April 28, 2017
Location: The Norwood Hotel,112 Marion Street, Winnipeg, MB.

Those registered that fail to attend will be invoiced. Please notify us of any food allergies or diet restrictions and we will accommodate you.
Space is Limited so Register Soon!
Hyper-Cannibalism – Why Competition is for Losers (and Survivalists) (Luncheon)